Mary emails:
Hello Luke,

I read your critique of about Melissa Scott.

Melissa was so brazen as to give a teaching where she refers to him openly during her lesson, believing it to be so esoteric that only the chosen circle of aberrants she associates with in the evangelical community would know. She then sings her flesh out in the end with the song "he touched me, oh, he touched me, and made me whole."

Mocking and blasphemying a sacred song to brag about her conquest. When she was exposed as well as to her inner circle she appeared pale and ashamed. Following the lesson to sing her song she was sitting on a chair with her side facing the camera, unwilling to bare her soul and the truth to the world of her shame.

Because she was found out and called on it, she then responded making a confession of sorts with her teaching on the promises of God. If you pull her up on google images and click into the illustration of her with the title of the same you will read her confession. Now that all is out and the people do not know she continues to laugh about it by teaching on being clothed, Isaish walking around nude, etc. in light of the whole thing.

Paul Crouch Jr. is in on this thing. He has been the go-between for many years in this intrigues, never calling anyone to accountability and further perpetuating the drama with complete disregard for the things of God. The whole thing is an abomination in the eyes of God, and a stench in his nostril. Some people think that even as they fool others, they can fool God. Woe be to those who pretend to be of me, and lead my people astray. It would be better to have a millstone tied around your neck and thrown to the bottom of the sea than to hurt God's little children/chosen ones, saith God. I shudder to think what will happen when they face their creator at judgment time.

Go to the Cathedral and watch what she says and does. She's probably going to be a bit on edge due to the recent information being found out. She cut back on her broadcast time. Keep your ears and eyes peeled.
Here's the Wikipedia entry on Pastor Melissa Scott. Here's PastorMelissaScott.com. Here's a pro-Melissa site.
There once was a man named Dr. Eugene (Gene) Scott, who had a preaching television show where he would… you guessed it.. scribble on a white board during his sermons. His sermons are described as being surreal, with random stock footage of things like horseback-riding slipped in. He frequently smoked cigars, used profanity, and was completely open with telling his viewers that they can simply buy their way into heaven. In 2000, he married a 32 year old woman named "Melissa Pastore" when he was 70 years old. He died five years later, leaving her millions in assets.

The Internet describes his widow as being far more complex than himself.

According to a post on a thread on debatebothsides.com that was re-posted on tboforums.com:

Melissa Pastore (AKA Barbi/Barbie Bridges was involved in a ton of legal battles with her ex-husband Paul Pastore, the most notable concerning their porn business – "Barbie Bridges Entertainment" and a certain hardcore video was named in a suit called "Picture Perfect Seduction" in which she starred. If that's not enough, there is some speculation that Melissa Pastore (who's maiden name is Melissa Peroff), is noted gangster Frank Peroff's daughter, citing his name on her legal documents, her supposed birthdate, and location of residence.

If all this is true, it's no surprise that the legal action Melissa took early in the nineties is what is making finding the porno pictures of her so hard to find.

A strange constant theme is talk of her getting things that she finds objectionable pulled from the Internet, regardless if they're pornographic or not.

In case the video gets the axe, it describes Pastor Melissa Scott "purging" the Internet of websites and other YouTube videos projecting her in a negative light… which I think would be damn near impossible.

BUT this coincides with a lot of websites (referring to both Barbi Bridges and Melissa Scott) that no longer exist even though they're listed in a yahoo search.

Barbie Bridges is listed in one of my references as being "Miss Nude Can-Am Exotic, out of Tornoto, Canada, in 1994″, I cannot find a pageant by that name. Upon reading into those pageants, I found that there is a 1996 Miss Nude Can-Am Exotic Pageant, but to me, it looks as if it were some sort of one-time exhibition thing (also note that I cannot find a "Barbie/Barbi Bridges" in attendance in any Canadian pageant by the organization in 1994 or 1996).

I did find a link to a German looking site that has pictures of a "Barbi Bridges" that looks similar to her, (circuitbomb helped) but of course, no video. The similarities to her are striking, but it could be argued that the girl in the photos is not Melissa Scott.
This website (Jesus-Is-Savior.com) accuses Melissa Scott of being a "feminist false prophet."
I saw a recent episode of Mrs. Scott on TV, speaking at The Cathedral. She dazzled the audience with a bunch of Greek and Hebrew words, but never made any sense of what she was trying to say. I watched 30-minutes of confusion. She kept talking about "power" and "Christ," but never mentioned the blood of Jesus. Apart from the sin-cleansing blood of Jesus, we would all be hopelessly condemned to Hellfire forever. Mrs. Scott also failed to mention "sin," or "Hell." To no surprise, she also criticized the King James Bible, God's preserved and inspired Word. Truthfully, I don't see how anyone could learn anything from watching Mrs. Scott speak. She talks quickly, moves from chalkboard to chalkboard, speaks a bunch of jibber-jabber, but makes no sense at all. It's almost as if she's mocking the stupidity of the audience. As with many intellects, she leaves the common man far behind. The average person would have NO IDEA what she was talking about. Truthfully, I don't think she even understands what she's trying to say, but she knows just enough to deceive her listeners. This is only my opinion of course. One thing is certain to me… she is very confusing and a poor teacher.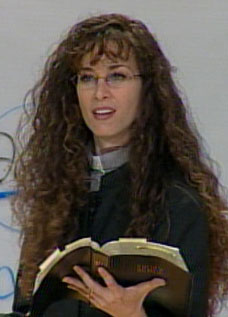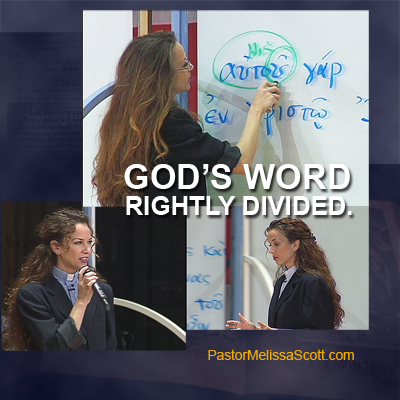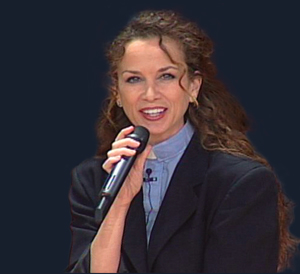 Here's speculation from the Stern Fan Network:
Here's an interesting bio I found on her…

Pastor Melissa Scott, widow of Dr. Gene Scott, has taken over the Los Angeles University Cathedral after Dr. Scott died in February 2005 from terminal prostate cancer.

Melissa Scott was born April 12, 1968, as Melissa Pauline Peroff in Italy. The family moved to Canada then to Massachusettes where Melissa met and later married Paul J. Pastore, an aspiring adult movie producer. The couple moved to North Hollywood and wed in Las Vegas in 1992 then began their work as pornographic producers and directors. Melissa performed as Barbie Bridges in adult photos and videos produced by Vivid Productions. The two formed Barbie Bridged Entertainment which has grown to an international producer and web producer of pornographic video movies featuring teen agers and every conceivable combination of erotic thrill.

Melissa became coupled with Dr. Gene Scott in 1995 during his pony girl phase of paying models to attend his church in the front row, while requiring the rest of the audience to stand and give the ladies an ovation when they entered. Melissa was one of the group who vied for Dr. Scott's attentions and assets.

In 1996, Melissa divorced Paul Pastore and Gene Scott divorced his second wife Christine.

Some doubt the credibility of Dr. Scott's claims that Melissa spoke 15 languages and has an IQ of 186, particularly when Dr. Scott's doctors had to tell her to stop feeding Dr. Scott herbs which were interfering with his prostate cancer test results and treatment. Dr. Scott died of terminal prostate cancer in 2005.

Melissa Pastore
Current pastor of Dr. Gene Scott's University network.

Widow of Dr. Gene Scott in February 2005. They were married in Reno, Nevada 8/2000, when he was 70 and she was 32..

Has a past, including associations and described nude photos available online, under the professional name "Barbie Bridges" and "Barbi Bridges."

Barbie Bridges was Miss Nude Can-Am Exotic, out of Tornoto, Canada, in 1994. Barbie Bridges Enterprises, operated out of (personally identifying information removed), California, was financed by her to $40,000. and operated in partnership with her 1992-1996 husband Paul J. Pastore (22 years her senior). Several adult films, with explicit titles, are described on the Internet as having been produced in the 1990's by her firm. Paul Pastore has more recently operated "Beverly Hills Records" (1998-2003) and "Universal Images."

Her Maiden Name, per the 2000 and 1992 Nevada marraige licenses: Melissa Peroff.

She was the daughter of a "Frank Peroff" of Canada, born on (personally identifying information removed). There was a mobster operating out of Canada in that approximate timeframe, as Frank Peroff, who was later the subject of a book by L.H. Whittemore.

She was sued in 1998 for "Fraud and Deceit" in Los County Superior Court, for non-payment on a $30,000. promissory note linked to "Barbie Bridges"

She has not repented publicly, or explained her past in full, to her congregation.

There are also links, to the attorney handling the Scott Church/Estate, and the Church of Scientology.

Other sources and information on Melissa Scott.

The 1996 LA County divorce file has been imaged.

Some of the highlights:

Confirms that it is the same Paul Pastore, as was married in Vegas on 11/24/1992, and includes the (personally identifying information removed) address.

Reports that Melissa financed "B B E Ltd" to about $40,000.

Includes a restraining order on Paul, including damages of $100,000. (!!) for each instance of distribution of an image of "Barbie" via photo, print, video, etc.

She got a 1990 Corvette, and he kept the lease on the apartment and a 1992 Ford van.

IMPORTANT: If anyone can locate a copy of a video named "Picture Perect," it might explain the reasons for this court action — I suggest a search of available film databases for this. Might be something really interesting there.

I didn't locate this, but checkout Los Angeles Superior Court Case

BC186128 (filed 2/17/1998).
Filed by Plaintiff Ronald Atkinson against Defendants:

(quote) "Barbie Bridges Entertainment; Paul Pastore individually and dba Barbie Bridges Entertainment, Melissa Paulina Pastore**, individually and dba Barbie Bridges Entertainment."

This complaint alleges "Fraud and Deceit" with regards to a Promissory Note that the Plaintiff alleged was not repaid. In the intial suit, Plaintiff asks for $30,000.00.

Plaintiff's Attorney was Robert B. Silverman, who according to California State Bar records now practives from Westminster (phone listed on CA Bar website at (personally identifying information removed)).

Defendant's Attorney was Robert M. Ross, who according to California State Bar records now practices from Encino (phone listed on CA Bar website at (personally identifying information removed)).