Jemele Hill on ESPN's First Take says today she's seen Mexican TV reporter Ines Sainz acting in a flirty manner with football players. Her whole approach as a TV sports reporter is to flirt with her subjects. She does stories on such things as who has the biggest biceps in the NFL. To do the field research, she puts her hands on a lot of NFL biceps.
Ines Sainz says she was made to feel uncomfortable in the locker room. Well, duh! Here's a flirty girl who's all over NFL players and now she's in a room with naked dudes she's been flirting with.
Ines Sainz and other female reporters may not belong in a locker room filled with naked dudes. Male reporters don't get to go into locker rooms filled with naked ladies. Why is that? Why don't male reporters get to interview hot female tennis players when they're naked? Why does this only go one way? Why is that OK?
Skip Bayless made a good point Sept. 15 on First Take that no reporter belongs in the locker room. It's uncivilized.
Rabbi Rabbs emails: "Women have no business in a men's locker room, period, and I don't care how unpopular my opinion is, and you can quote me on that."
On his radio show Sept. 15, Dennis Prager said:
Ines Sainz is a sports reporter for TV Azteca in Mexico.

She went into the New York Jets locker room and according to the USA Today, she was dressed in tight jeans, high heels, and a low-cut blouse.

You have a sexy young woman in a low-cut blouse. I've seen the pictures of this woman and the jeans and I don't know how she gets into them. Maybe she sleeps in them? Maybe she showers in them? They're very hard to get on and off, I have to believe, by simple laws of physics. She walks in high heels, which of course is the typical dress code for a locker room. The men are walking around essentially naked except for a towel perhaps. They whooped it up.

When she was outside the room, they overthrew two passes of a football at her, which, as you know, is a terrible form of harassment. The New York Jets have had to profoundly apologize. Anyone who's defended in any way the Jets' players has had to apologize. I'll have to apologize. This is the totalitarian left at work. This re-education campaign. You have not acted the way the left wants you to act.

They say she was sexually harassed. Why weren't the players sexually harassed by her outfit? Why is the only form of sexual harassment verbal? Why isn't there visual?

Totalitarians of the left argue that if a guy who works in a body shop has a calendar up of women in bikinis, that is sexual harassment of females. They believe there is visual harassment of women but not of men.

One has a more frightening question to ask — is it absolutely necessary that female reporters go into male locker rooms. Do male reporters go into female locker rooms? No. Why isn't that sexual discrimination? Why can women in provocative clothing enter the men's locker room but men can't enter the women's locker room?

This is part of the insidiousness of what the left does to control men's behavior. Women can make profoundly sexual statement with their clothing but men may not react verbally or visually (by staring).

Maybe Americans will never rebel at the control of their lives the left has instituted?

If it is done incrementally, it's like the frog boiled by gradually hotter water. So too with our liberties. They are boiled at a slow rate and we don't know to jump out. Now people are jumping out because President Obama and the Democrats didn't do the boiling at a slow rate. With Obamacare, it became clear what the left stands for — more control of your lives.
I did a Google search on "Inez Sainz" and found her listed on a site for top 25 celebrity booties.
Only a homo or a holy man wouldn't want to tap that!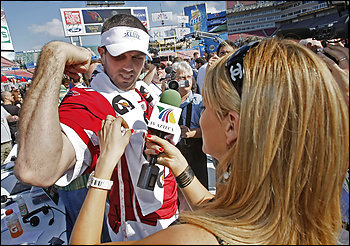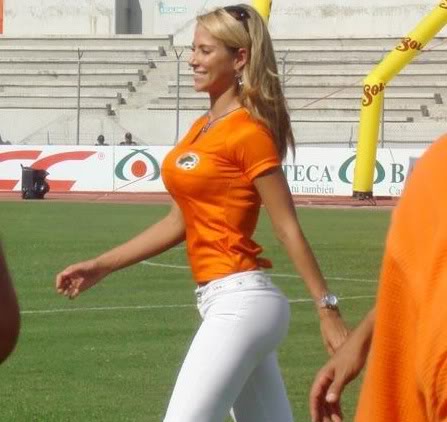 Ines Sainz tweeted this photo to show that she was not dressed provocatively Saturday: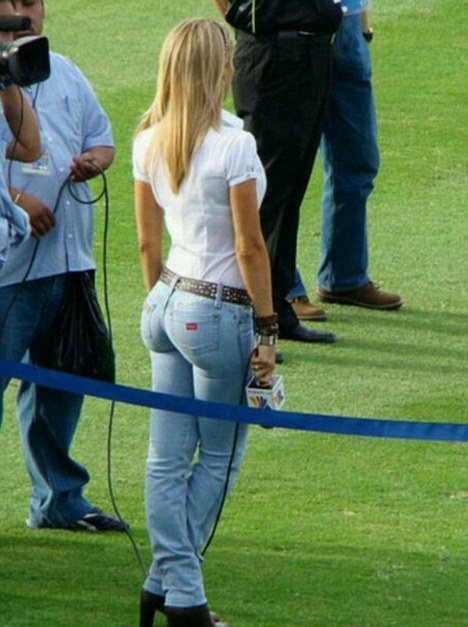 I'd say that her body is a provocation. I'd throw footballs at her too.
Ines Sainz regularly dresses in a sexy way while interviewing NFL players (and other sportsmen). Check out what she wore last night for the Jets-Ravens game: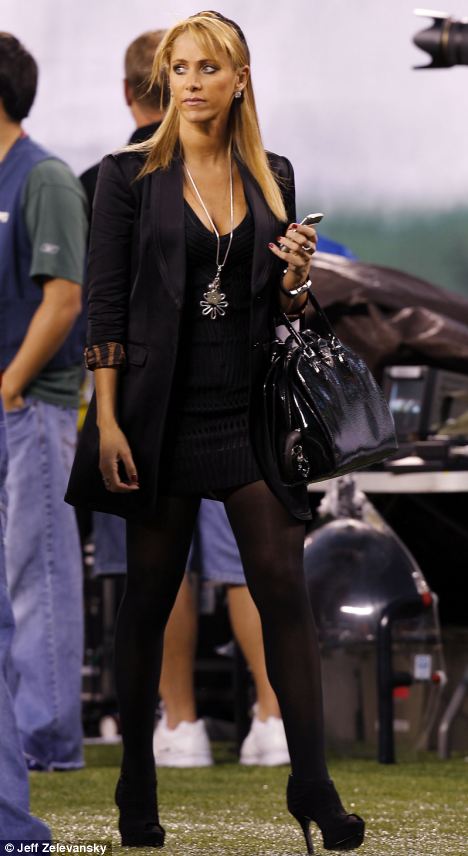 Most female journalists are rough looking. It's not a profession for those who don't like to sweat. TV reporters, of course, are not really reporters. They're entertainers. They rarely break news. Particularly not the sexy ones.
Attractive: Sainz, who works for TV Azteca, has appeared in magazines wearing just a bikini but claims she was appropriately dressed for the Jets match

Beach babe: Sainz, who described herself as 'the sexiest sports reporter in Mexico' poses for the camera

Sainz, who has previously appeared in several magazines wearing just a bikini, defended her appearance at the Jets practice session, insisting she dressed modestly, and posting a photo on Twitter to back up her claims.

'Jeans and a white button-up blouse [are] in no way inappropriate,' she tweeted.

She complained she was bombarded with so many catcalls at the training facility that she wanted to 'cover my ears.'

But she later appeared to make something of a u-turn, claiming she 'never felt attacked' by what happened in the locker room and suggesting that it was other reporters who brought up the issue.

'In my opinion, I never felt attacked, nor that they reacted grossly toward me,'she said.

'I arrived in the locker room and there were comments and games. One of the other reporters came up to me and apologised for what was happening, but I thought [the players] were joking around.'

She then wrote on her Twitter page: 'Thanks everyone for your support. I already spoke to the NFL, which will decide if there will or will not be consequences.

'I can say that at the time I didn't want to pay attention to what was happening but the rest of the media heard clearly and in solidarity have denounced what happened, hoping that there is always a respectful climate.'
If Ines Sainz wants to be taken seriously as a reporter, why does she pose in bathing suits?
Check out this story. Clinton Portis tells the truth about human sexual relations and the NFL gets on his case! The NFL has a problem with reality!
The NFL is condemning remarks made by Washington Redskins running back Clinton Portis concerning female reporters in the locker room.

On Tuesday, Portis told 106.7 The Fan that both players and female reporters have wandering eyes when the sexes are mixed in a locker room setting.

Portis said he was confident that female reporters working in team locker rooms would have some level of attraction to the players.

"I think you put women reporters in the locker room in position to see guys walking around naked, and you sit in the locker room with 53 guys, and all of the sudden you see a nice woman in the locker room, I think men are going to tend to turn and look and want to say something to that woman," Portis said on WJKF-FM.

As for a female reporter's reactions, Portis said, "You know, somebody got to spark her interest, or she's gonna want somebody. I don't know what kind of woman won't, if you get to go and look at 53 men's (bodies). … I know you're doing a job, but at the same time, the same way I'm going to cut my eye if I see somebody worth talking to, I'm sure they do the same thing."

League spokesman Greg Aiello says Portis' comments are "clearly inappropriate, offensive, and have no place in the NFL." He says the NFL has contacted the Redskins, who will discuss the matter directly with Portis.
How many male reporters would give their right nut to interview a naked Maria Sharapova? I'm a very holy man, but I might be a tad stirred in such a situation.
I'm sure many male journalists would enjoy interviewing the following WNBA players in the locker room:
Dawn Staley, coach: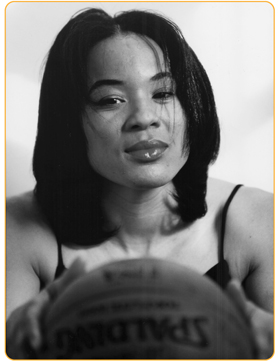 Armintie Price, Guard, Chicago Sky: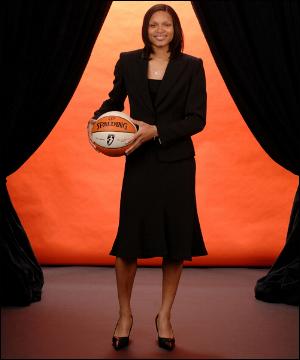 Swin Cash, Forward, Seattle Storm: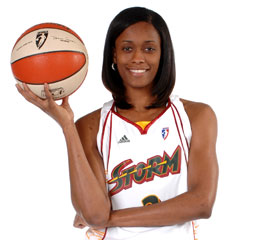 Sue Bird: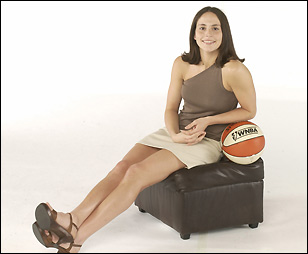 Please remember that nobody has done more than me to fight the male objectification of women. I'm only using these photos for illustrative purposes. I want you to better understand the thorny moral issues we're grappling with.
Men are, indeed, allowed in women's locker rooms. Driving into work on Monday I heard a nationally syndicated radio commentator lamenting the fact that he couldn't go in women's locker rooms. Apparently he's never attempted to cover women's sports — sadly, not too surprising. But as this particular radio talker works for a network that covers both the WNBA and the women's NCAA basketball tournament — and also employs several high profile women sports reporters — you'd think he might have checked his facts.

The WNBA — the playoffs are going on right now — has the same rules as the NBA. Open locker rooms at designated times. In the NCAA tournament, the same rules govern both men and women's locker rooms — they're both open at specific times. During the regular season, NCAA institutions can make their own rules about locker room availability, but during the tournament the NCAA has a uniform policy. When Stanford played UConn in last April's championship, if you wanted to see how devastated Jayne Appel was after her terrible shooting night, you needed to be in the locker room. I was there. So were my male colleagues.
Yeah, but the men are not allowed into women's locker rooms when they women are naked while female reporters are allowed into men's locker rooms when the men are naked.