Luke Ford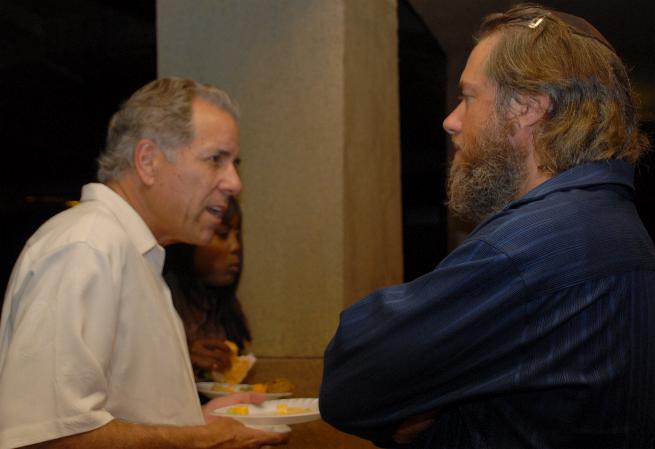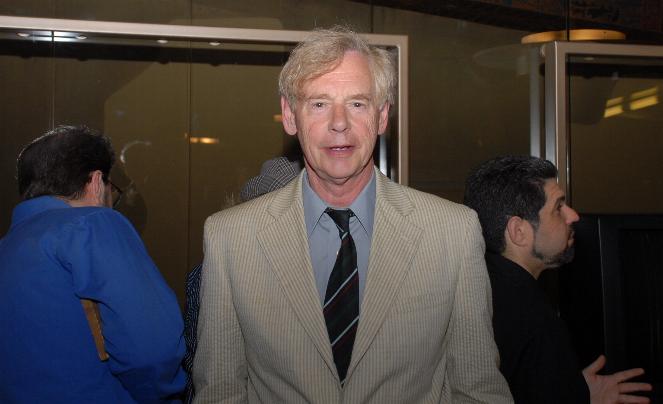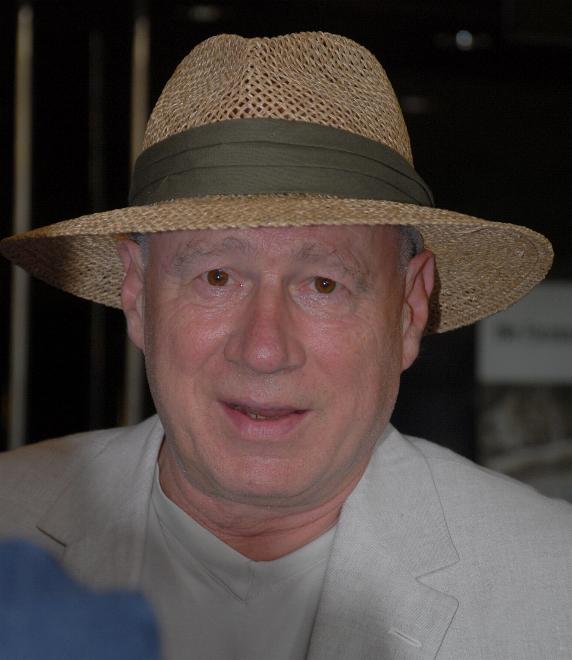 Neil Innes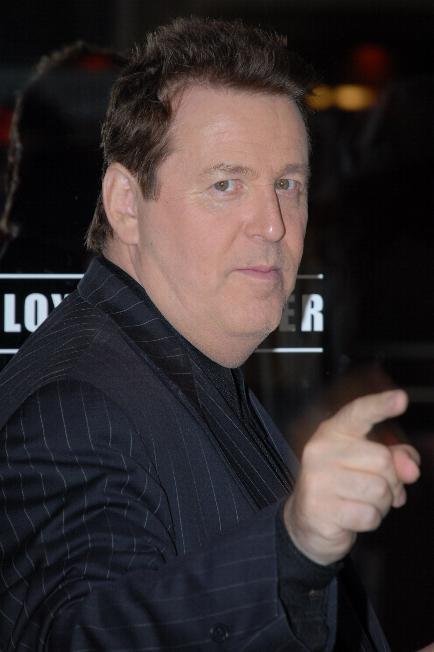 Martin Lewis
I caught this movie at the premiere of the Mods and Rockers Film Festival at the Egyptian Theater on Hollywood Blvd.
The Seventh Python is a sweet and funny documentary by my friend Burt Kearns about satirist Neil Innes.
It is a must-see for any Monty Python fan.
The film does not yet have a distribution deal but it's had numerous offers.
The Seventh Python made me want to stand up and cheer for a good and funny man.
Prior to last night, I don't recall hearing of Neil Innes but I was certainly aware of his work.
I interview Neil Innes.
Luke: "What are the main differences between what is funny now and what was funny 35 years ago?"
Neil: "I don't think there is anything different. Things are funny or they're not… Human beings are prone to coming up with humor as a defense mechanism for the awful things that do happen in life."
Luke: "When you are around people who love your work, what do you notice they have in common?"
Neil: "They're stupid… I don't know."
"I am naturally shy. I thought about walking around the building until was over."
Luke: "Is there an ethic to your humor? Is there stuff that you think is hilarious but won't do because it is too cruel?"
Neil: "Yes. I don't think you need to degrade anybody. There's enough of that going on, the laws of nature, without people doing it to each other. Some of the way TV shows deal with entertainment, it's horrible. It's demeaning. I don't watch it."
Luke: "Do you notice any difference in what you find funny as you age?"
Neil: "I don't spend time analyzing things in that way."
"I've noticed that as my grandchildren get bigger, they're vulgar. They're filthy little brats. That's where potty jokes belong. It's a big thing to them. They say poo smells and they giggle and you can't help yourself laughing with them. But I wouldn't do that in a concert."
Luke: "America vs Australia vs the UK. What are the major differences in humor?"
Neil: "I don't know."
Luke: "I can only see the British making jokes about Shakespeare and philosopher songs… You're not an Anglo superior?"
Neil: "Oh no. From the 1970s, the quality of American television is superior."
'Charming and illuminating!" LA Times returns to The Seventh Python hours before world premiere

The LA Times has certainly taken notice of the world premiere of The Seventh Python tonight at the Mods and Rockers Film Festival in Hollywood. On the heels of a full-length feature in the Guide section, music writer Randy Lewis– who got a sneak preview of the film– writes this afternoon:
You can tell a lot about a person from their heroes. There are those who cite great statesmen or politicians; others look up to athletes, scientists, philosophers or artists.

For British musician and humorist Neil Innes, it's Brian Dunkleman, who quit his job co-hosting "American Idol" with Ryan Seacrest because he didn't like the way contestants were being treated.

"Dunkleman turned his back on a fortune, and people ridicule him for it — I think he's a hero," says Innes, one-time member of the inner circle of the Monty Python comedy troupe who's often referred to as "The Seventh Python." That happens to be the title of a new film documentary on Innes' career, which also has included membership in the Bonzo Dog Doo-Dah Band and Eric Idle's Beatles satire project The Rutles, for which Innes wrote all the delightful Fab Four-esque songs.

"I say we should start a 'Dunkleman for President' campaign," he said.

His admiration for a pop culture footnote goes to the heart of the charming and illuminating documentary by director Burt Kearns who, like many of those he interviewed for his film, laments that Innes never has received wider recognition for his creative wit and musical acumen…

"That's the problem I've had all my life," Innes said, an ever-present lilt in his voice. "The truth is there is a lot of music out there that isn't trying to be funny, but it still is. The Bonzos used to point this out in the '60s. There's that thing that you can't ignore what you see, and the human condition is funny."

So is much of "The Seventh Python" — even to its subject. "There's a wonderful moment when they're on the street showing a photo of me and no one can identify it. Then one person looks into the camera and says, 'I know what you're doing — you're making a documentary about someone nobody's ever heard of.' I just adored that."

Read the entire article here.
LAist's Innes interview on morning of premiere

The LAist has Bob Thompson's great interview with Neil Innes, hours before the premiere of the Innes biopic, The Seventh Python (from our pals at Frozen Pictures) at the Egyptian Theatre in Hollywood. Some highlights (though personally, we like the juxtaposition of the two phiotos on the webpage):
Director Burt Kearns' previous work will probably be familiar to many in the audience, though they may not know and might not admit it: much of his resume is in tabloid TV… His experiences on the front lines of exploitation led him to write the book Tabloid Baby, which he calls "part mea culpa, part expose", in 1999… With this film, he hopes, if not to make Neil Innes into an actual celebrity, at least to level the market share a little.
Innes himself hasn't seen the final cut of the film yet. "I'm not sure if I'll have to walk round the theater until it's over," he says from his room in Hollywood. Despite any last-minute jitters, he sounds more than pleased to be here, and talks most excitedly about his latest work, including a 2007 Bonzos album, the first full-length since 1971.
Being the subject of a documentary, which I presume you've now seen, was there anything surprising that you learned about yourself while watching it?
No question, it's one of the oddest things I've ever found myself doing in my life. Because it's not my film. And it shouldn't be my film. But it's funny to see my friends saying nice things because they're normally very rude to me. So it's a little bit hard to take (laughter.) I am still naturally quite shy. But a lot of it I quite like. I think John Cleese is very funny, Phil Jupitus is very funny.
But I haven't seen the final cut, I saw it when it had everything and I did say, cut it down so that someone who never knew anything about me would get something, but don't dwell on things too much.
From TheSeventhPythonMovie.com:
Sean Connors Films, Ltd. Presents a Frozen Pictures production of The Seventh Python, a nonfiction musical feature film based on the life, work and unplanned career of musical satirist Neil Innes. The Seventh Python traces one man's winding path of whimsy as he flirts with destiny at the edge of fame with incredibly influential and unusually lasting work that keeps one foot each planted in the worlds of comedy and rock 'n' roll. From the Bonzo Dog Doo Dah Band to Monty Python's Flying Circus and The Rutles, to his Ego Warrior campaign and his insistence on wearing a plastic duck on his head, Neil Innes has proven to be the greatest musical comedy satirist of the past fifty years.

Not for nothing does John Cleese compare him to Steve Martin and Charlie Chaplin. It's no coincidence that Terry Jones likens him to Paul Simon. It's bizarre that Eric Idle and Michael Palin say he reminds them of Belgians—but they all say it in The Seventh Python. And, by the way, they all agree that Neil's The Seventh Python, which is a reference to various people being called the Fifth Beatle, which brings us to the Neil and the Beatles themselves…

Paul McCartney produced Neil's first (and, alas, last) hit single; Neil appeared in The Beatle's Magical Mystery Tour; he performed with The Pythons on television, on tour, in films– and in The Concert for George tribute to his friend George Harrison (in which he was seen baring his arse onstage at the Royal Albert Hall); he belongs in the Rock and Roll Hall of Fame as Rutle Ron Nasty; he plays a mean ukulele; and he's even got a songwriting credit on a tune by Oasis, who acknowledged "appropriating" his classic, How Sweet To Be An Idiot; and did we mention he likes to wear a duck on his head?

Yes, Neil Innes wears a duck on his head and he refuses to be famous. And it is his stubborn, brave resistance to celebrity culture and consumerism that is at the heart of this film that one early reviewer has called "touching, hilarious and inventive!"

The Seventh Python is filled with concert performances from Neil Innes' brave trip to Hollywood, the heart of celebrity culture, follows him across three continents, and includes appearances by many friends and associates, from the aforementioned Monty Pythons to music star Aimee Mann, Simpsons creator Matt Groening, comedian and second generation Bonzo Phill Jupitus and a Rutle or two.