Another prostitute who advertised online, is named Kristen and fits the physical description has denied she is the Kristen who met Spitzer on February 13. Meet the real Kristen here*
Eliot Spitzer announced he was involved with an alleged prostitution ring called the Emperors Club VIP (as was Britain's Duke of Westminster) and resigned. For pictures of the girls (who cost up to $31,000 a day, and are also priced in Euros and Pounds) scroll down.
Last week The Smoking Gun posted papers about the international prostitution ring being busted, as they were last Thursday. The high-priced call girls were rated in diamonds on the club's website:
An international call girl ring that solicited wealthy male clients via a web site that rated its hookers on a scale of diamonds (and charged accordingly) has been busted by federal agents. The operators of the New York-based Emperors Club were named in a felony complaint unsealed today in U.S. District Court in Manhattan.
The New York Times wrote about the bust.
Federal authorities arrested four people Thursday on charges of running an online prostitution ring that serviced clients in New York, Paris and other cities and took in more than $1 million in profits over four years.

The ring, known as the Emperor's Club V.I.P., had 50 prostitutes available for appointments in New York, Washington, Miami, London and Paris, according to a complaint unsealed on Thursday in Federal District Court in Manhattan. The appointments, made by telephone or through an online booking service, cost $1,000 to $5,500 [scroll down for fee page] an hour and could be paid for with cash, credit card, wire transfers or money orders, the complaint said.
The New York Sun reports how managerial challenges hindered operations, although Spitzer's wire transfers brought it down:
Several phone numbers associated with Emperors Club have been under surveillance by the FBI, which intercepted more than 5,000 telephone calls and text messages during the investigation, according to court documents.

Excerpts of those intercepted calls, provided in court documents, offer a window onto some of the managerial challenges that confronted the four defendants who allegedly managed the operation. In them, the managers discuss how some of the Emperor Club prostitutes had difficulty taking imprints of their clients' American Express cards, making it difficult to charge them. Prostitutes weren't always punctual in arriving at their engagements. There were scheduling conflicts to resolve caused by the photo shoots of the women who modeled during the day. And clients called in wanting to know what they should tell their accountants about the expenses they were racking up with the Emperors Club.
The website for Emperor's Club, since taken down, said this:
Emperors' Club vip is the most preferred international social introduction service for those accustomed to excellence. Introducing the most impressive models to leading gentleman of the world is our expertise. We specialize in introductions of: fashion models, pageant winners and exquisite students, graduates and women of successful careers (finance, art, media etc…) to gentlemen of exceptional standards. When seeking an evening date, a weekend travel companion, or a friend to accompany you during your next business / social function our models are perfect preference.

We act for a select group of educated, refined and successful international clients who give their best in all they do and who, in return, only wish to receive the best. Catering to clients who will not compromise in any area of their life…

Our meticulous standards of beauty, intelligence and charm ensure that you always encounter the quality you've come to expect in a woman, when with an Emperors' Club vip model. Each of our companions is a product of an exceptionally fine background and a success in her right. All rendezvous are individually crafted to suit the needs of your specific occasion. Note that each model has place in her schedule for a select number of appointments per month, so your date will be a special one for both of you.

Our goal is to make life more peaceful, balanced, beautiful and meaningful. We honor commitment to our clients as we covet long-term relationships of trust and mutual benefit. Experience for yourself a service of obvious distinction…
"Maya" has 7 diamonds, Emperors Club VIP's top ranking: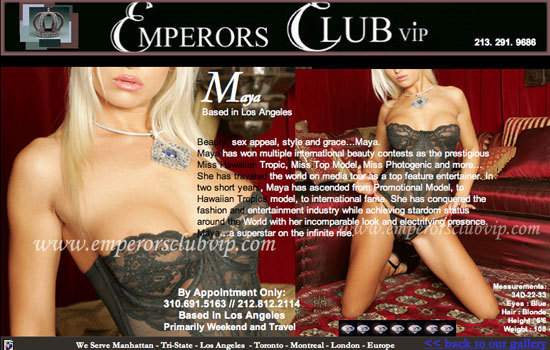 Here is the page for "Drew," who had hourly rates: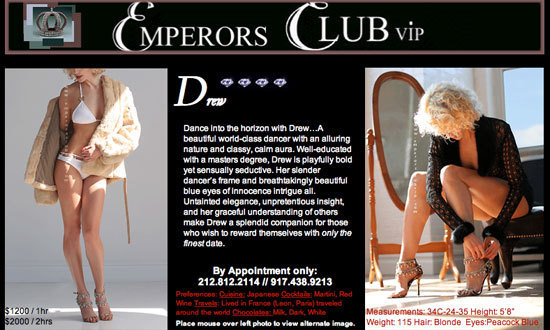 Here is the page for "Anais," a "model, actress, dancer, superstar…"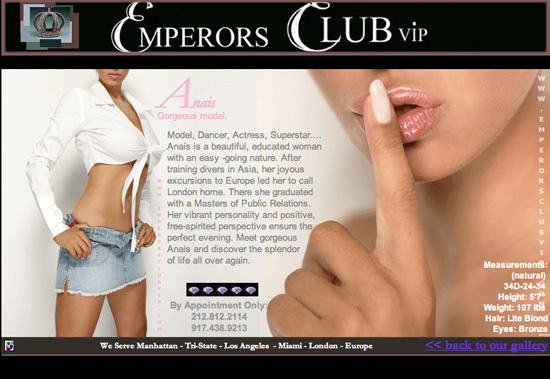 "Brenda":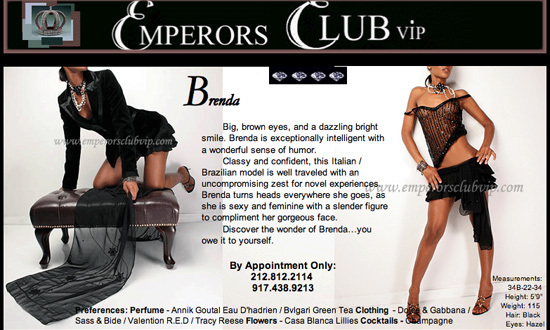 A page of the portfolio, although "Kristen" is not listed: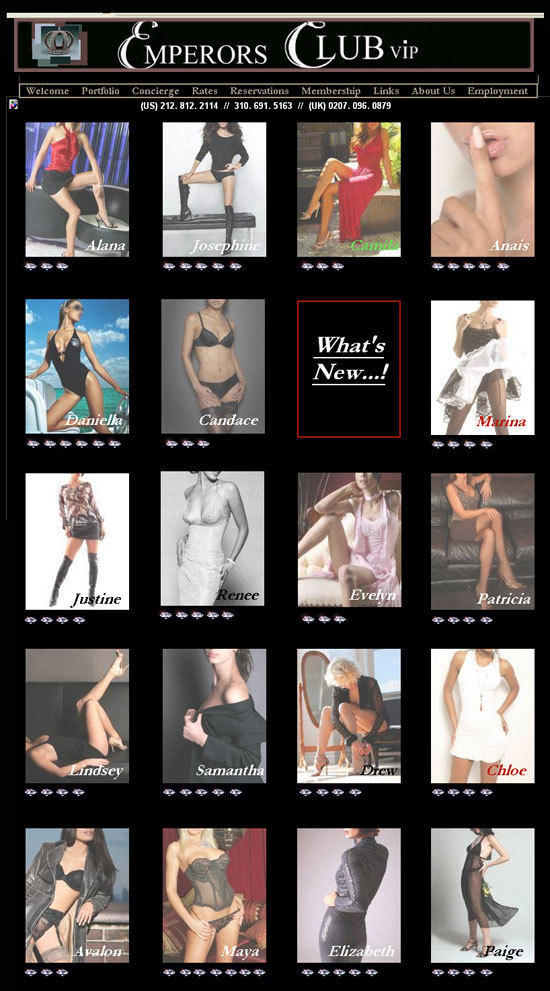 "Lola" is 19: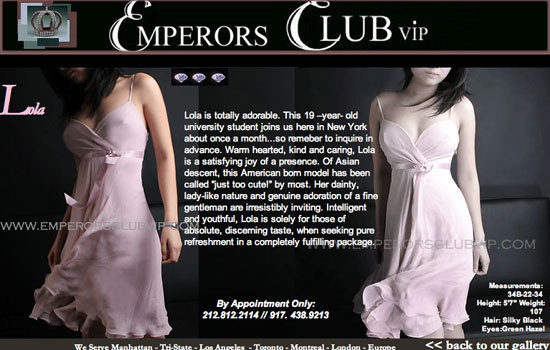 "Mackenzie":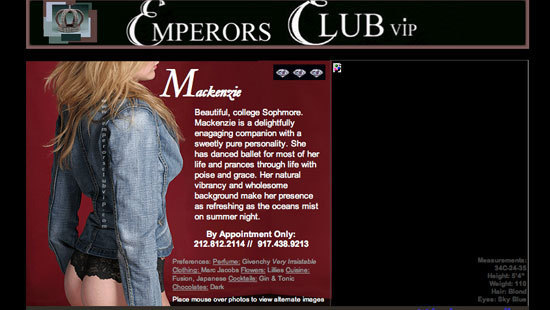 "Patricia":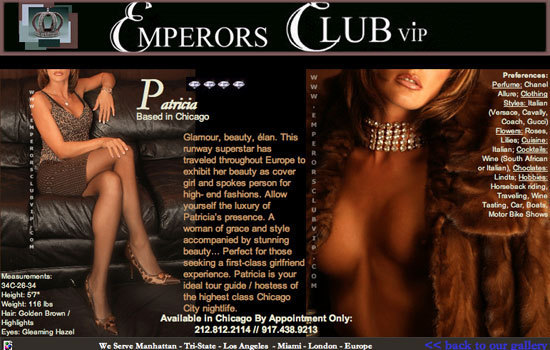 "Candace":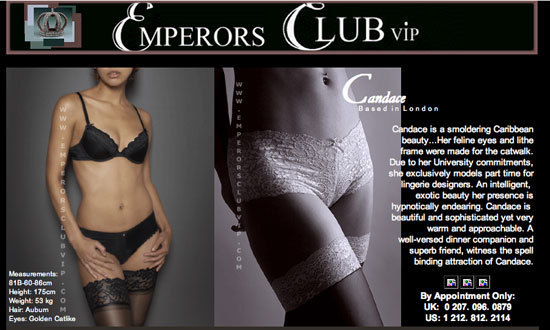 "Marina" is a dancer: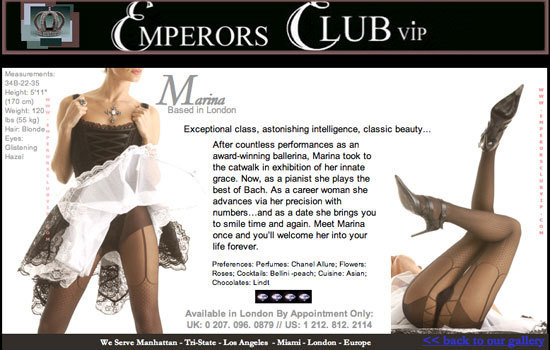 "Savannah":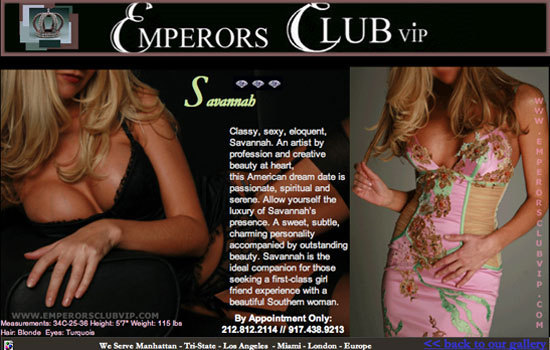 "Alana":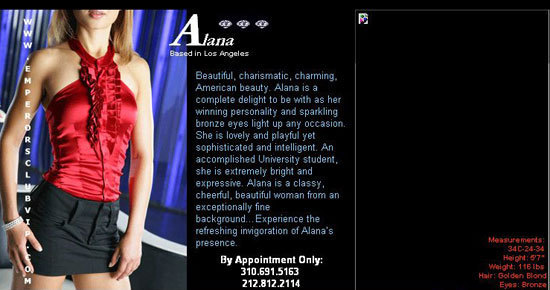 "Evelyn" worked from Beijing: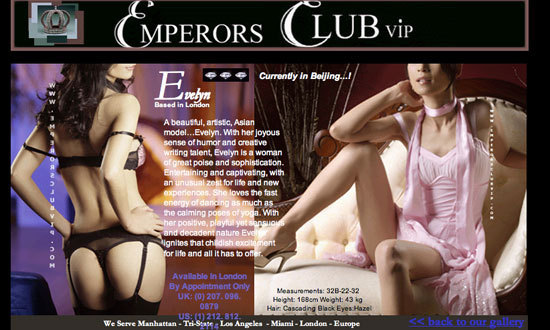 "Samantha":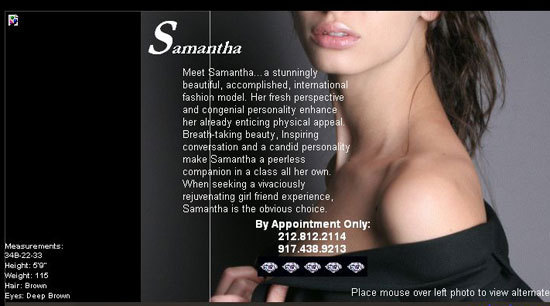 "Renee":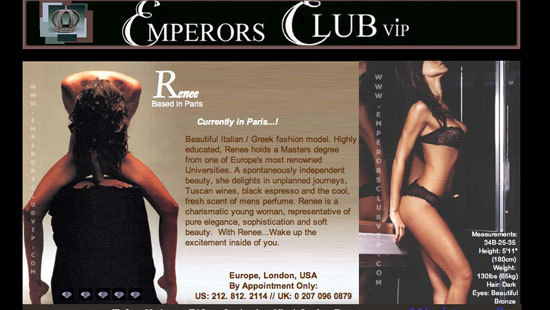 "Julia":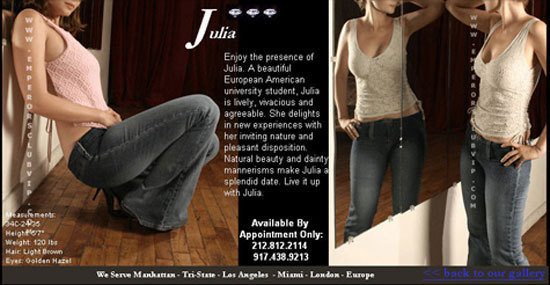 The ladies went for as much as $31,000 per day for a "seven diamond" rated girl.
Screengrab of the fees (and package rates):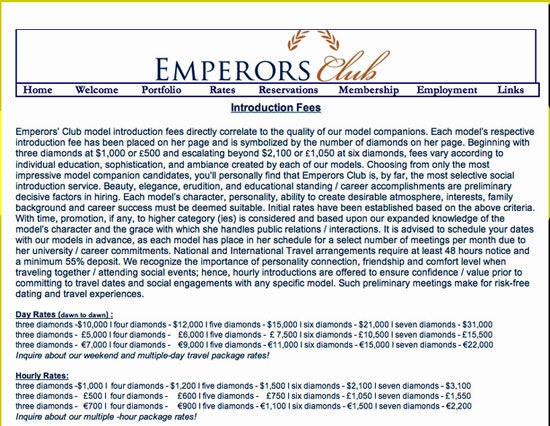 More screengrabs here at Wonkette, and links, plus see the Kristen conversation NYMag.com highlighted last week.