Any excuse to jump up and down, scream, and wave your arms.
EXCLUSIVE VIDEO: Black Students In Canada Barricade Vice President, Accuse College Of 'Anti-Black Racism'
A mob of black students at one of Canada's liberal arts colleges has been caught on camera intimidating white administrators, including an Associate Vice-President, yelling, "You will give us the respect that we ask of you," and presenting a list of segregationist demands.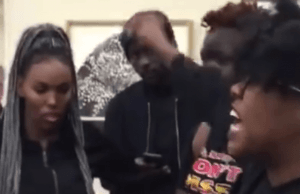 Brenda Whiteside, Associate Vice-President of Student Affairs at the University of Guelph, was trapped in her office by a gang of protesters who whooped and clicked their fingers as two of their number accused the college of being "rooted in anti-black racism."
The footage, which appeared briefly on LiveLeak.com before being taken down, has not previously been published. It shows a large group of black students surrounding two white college administrators while their leaders jab their fingers and shout at Whiteside, demanding more black support and academic staff.
The University of Guelph's Assistant Vice President for Human Rights and Equity, Jane Ngobia, is a black woman.
The Guelph video shows how odd the language of campus protest has become. "How many racialised [sic] students do we have?" asks one protester. "White students can go in and talk to a white counsellor. What about us?" The first adds: "Are you even around racialised people?"
Also disturbing are the plainly segregationist demands the students make. They appear to tell administrators they cannot be represented or "validated" by white staff and that only black staff can cater to their needs. "We're not being acknowledged. And that's fundamentally problematic," says a boy who identifies himself as a campus athlete.
The athlete says he has, "Never left my campus and not thought [racial abuse] is gonna happen. And for me to just implicitly feel that's comfortable is problematic." The word "problematic" is echoed around the protesting students as a sort of mantra.
Another student agrees that she is "scared to go out." The University of Guelph is one of Canada's most liberal educational institutions.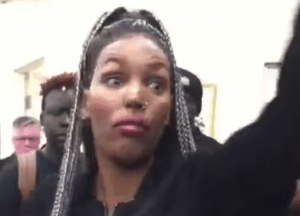 One of the leaders of the protest is seen objecting to the presence of police officers on campus, alluding to the number of black deaths she says have occurred at the hands of the police. She says to Whiteside: "As I walked in here, and I saw that police officer, Brenda I was disappointed… Why does he feel like he needs to come here? Why does he feel like he is invited here?"