Let this be a warning to the young people.
Oy, this does not make Jews look good. "Feldman" is a Jewish name right?
I can only imagine how I would've reacted if the police caught my wife in such a position.
Maven emails: "What in the world makes you think that woman in Des Moines with a husband named Kelly is Jewish? Because she has a German last name? The theorist of Hitler's race laws was named Alfred Rosenberg. I've been callerd by people with my last name who are apparently Mormons originally from Germany, never Jewish. You are like some kind of old school "antisemite" some times: The Jews sank the Titanic! What are you talking about, an iceberg sank the Titanic?! Iceberg, Goldberg, what's the difference?"
My bad. Here's a picture of Lois Feldman next to a Christmas tree: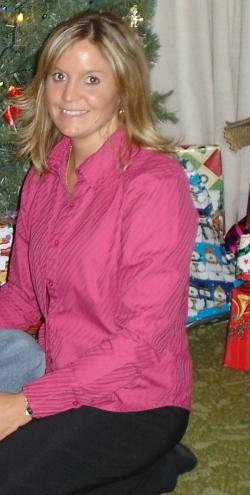 Here's the guy, Ross, kissing another woman: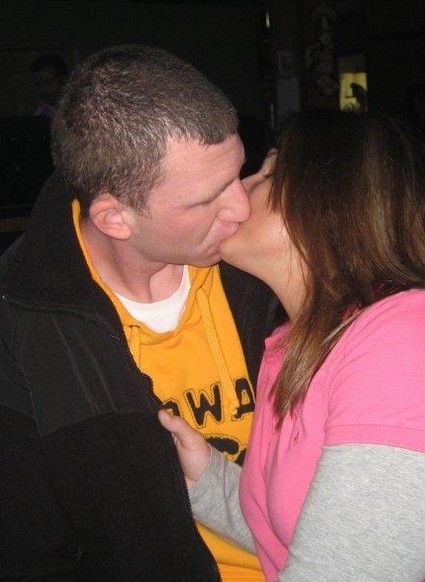 A Carroll woman who was caught having sex in the men's room at an Iowa Hawkeye football game in Minneapolis last weekend says she'd had so much wine before kickoff that she doesn't remember walking into the restroom, the man she had sex with in a stall, or when the police opened the door.
What Lois Feldman, 38, will remember is the humiliation afterward.
"It's ruined my life," she said through tears today. "Not just the incident but the press."
Feldman, a married mother of three, has been the target of Internet jokes and prank telephone calls today. She was fired this morning from an assisted living center, where she had been an administrator.
Feldman said her husband, Kelly, has been supportive. She said he faults himself for not going with her when she left her seat to use the restroom before halftime.
"I don't know what happened," Lois Feldman said. "But I don't deny that it did happen because obviously there are police reports."
Police ticketed Feldman, 38, and Ross Walsh, 26, of Linden for indecent conduct Saturday night.
A security guard who said he saw the two having sex through a gap in a men's restroom stall flagged down campus police, according to the police report.
By the time an officer arrived, about a dozen people were cheering and laughing in the bathroom while Feldman and Walsh were inside the stall, the report said.
The officer pushed his way through the crowd, opened the door and separated Feldman and Walsh, the report said.
Police described both Feldman and Walsh as upset, drunk and uncooperative.
Chuck Miner, deputy chief of the University of Minnesota police department, said officers tracked down Feldman's husband.
"I'm not sure how they made contact with her husband, but they needed her husband to help identify her" because she'd given the wrong middle name.
Miner said police didn't measure the blood-alcohol level of Feldman or Walsh. Asked to respond to Feldman's claim that she was too drunk to recall the incident, Miner said: "That's probably an accurate statement."
Feldman said she'd never met Walsh.
"I don't know who this man is," she said today. "I just found out his name in the paper last night."