A convert to Orthodox Judaism at age 16 (under the auspices of Rabbi Moshe Feinstein), Jacob Stein writes the Jewish Philosopher blog.
My favorite post of his is about how to catch secret Orthodox atheists. It should be required reading for those in the heresy detection business.
What strikes me about Jacob's work is how exact it is and how much of himself he puts online. He writes: "I am including here detailed biographical information about myself because I want to demonstrate that I feel strongly about the truthfulness of the ideas in my blog and I am willing to stake my reputation on my posts."
Jacob says he was raised in New City, New York, by Lutherans of German descent who hated Jews.
In our interview, he refers to his "birth" parents and to his "adoptive" parents. He never describes his adoptive parents as simply his parents.
Jacob says that at about age ten, his adoptive parents lost interest in him and his brother. Perhaps as a result, Jacob began exploring religion.
Jacob's adoptive mother, Anne Orth Epple (the author of a dozen books), writes to me Jan. 30, 2011:
Dear Luke Ford,

This entire letter is regarding the false statements Jacob Stein, the Jewish Philosopher, has made in your interviews with him. We, his adoptive parents for sixteen years, would like to respond to his accusations.

A Christmas letter from a friend New City, NY alerted us to Jacob's Blog. His father and I were shocked to read all the lies about us, and also by his hateful behavior at work which caused his firing. Then to top that, his dismissal from the nursing school because of more hurtful remarks.

If Jacob is trying to exemplify the ultra-orthodox religion, what do his friends and neighbors think of his actions? We don't know about his Talmud, but it is anything like our Old Testament then he might try obeying the Ten Commandments a little more. We feel so blessed that our religion teaches us to LOVE each other.

Our family's hatred of Jews is a total lie. First of all my dear mother (shown holding Jacob as a baby in the first family photo on his blog) was born in New York City of Swiss parents. She had many Jewish friends and sent all of them cards on their Jewish holidays. My father, who was a New York City fireman for twenty years, came to America from Germany when he was a small boy. He also had many Jewish friends.

Now for the lies about us hating Jews. We spoke to ALL of our five Jewish neighbors in New City. We still receive letters and E-mails from one of our New City neighbors and she and her husband will attest to this. Jacob's father worked for a Jewish boss (also named Jacob) for over 30 years and greatly admired him. This friend has since died, but we still send and receive greetings from several of Jacob's father's Jewish friends with whom he worked.

Regarding our absence from church during a number of years, Jacob knew very well that it was due to a conflict with the minister of the church where his father was very active as a deacon. Our absence from church didn't make us any less Christian. We still read the Bible and lived by the teachings of Jesus. After all, standing in a church doesn't make one a Christian anymore than standing in a garage makes one a car!

Regarding the lie about how we lost interest in Jacob when he reached the age of ten just view all of the 142 photos he asked us to send to him a few years ago. He has them all on his blog now under family photos. Our summers were spent in a tent trailer exploring this marvelous country so that he and his brother (also adopted) could see the sights in 47 states and six provinces of Canada. These adventures included swimming, fishing, kite flying, horseback riding, and small plane flights.

Jacob and his brother had individual rooms that were mirror images. We never played favorites. Each room had a bed, dresser, window air conditioner, and a large desk, bookcase and large bulletin board which his father built.

While Jacob's father went to work as an engineer for Otis Elevator in New York City each day, I was a stay-at-home mom. This allowed me to become a writer (12 published books) and at the same time be home when the boys came home from school. I was there with homemade snacks or help with homework when needed.

Jacob's father and I were den parents for the Club Scouts and held meetings for the cubs to come to our family room to work on monthly projects. (Our den often won the best for the monthly project.)

When Jacob wanted a microscope, a set of Encyclopedia Brittanica's, needed braces, allergy shots, tongue operation, etc, we were there for him.

Now about the lie stating we threw Jacob out of the house. He was a loving son until about the age of 15 or 16. Then he demanded that everything in our home had to be kosher. He no longer could eat the food I cooked, eat off the dishes that had been washed in the dishwasher, etc. Even the light in the refrigerator had to be disconnected on Saturdays. When Christmas came on a Saturday and all the aunts, uncles, and cousins were gathered at our home he wouldn't open any of the gifts they had brought for him. I won't go on as to the many other stringent changes that Jacob expected us to observe. All we ever asked was for him to wait until he graduated from high school before making any decisions that could effect his entire life. He, on his own, packed a suitcase and took off when we weren't even home.

We think that if those Jewish leaders who converted him had known the truth, and not the snow-job he gave them, they would have spoken to us first before whisking him off to Israel.

About the lie of my having a stroke. I never had one in 84 years and hope to keep it that way.

Twice on our trips to the New York area to visit family, we stopped in for an hour to visit with Jacob and his family. He was pleasant, but upon returning home we received nasty e-mails from him. Our friends, family and minister told us not to have any relationship with him as it was affecting our health. We took their advice, however, becoming aware of his hateful blog just recently initiated this letter to you.

What is interesting to us is the wonderful, friendly relationship we have with Jacob's birth mother. She is as perplexed by his hatefula ctions as we are.

Fortunately, Jacob's brother and his wife bring us much joy as do their three delightful daughters. Unlike Jacob, his brother was always surrounded by friends and still is. He is such a loving, caring son.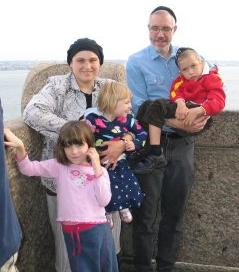 ABOVE: Jacob Stein and his family at the Statute of Liberty 2008.
ABOVE: Jacob Stein with his twins in 2007. His boy has severe cerebral palsy.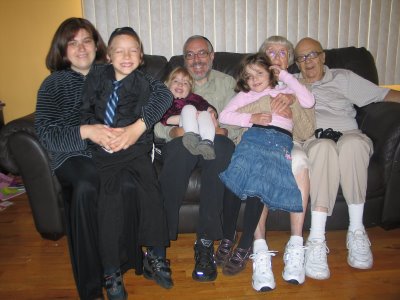 ABOVE: Jacob Stein in 2009 with his family and adoptive parents.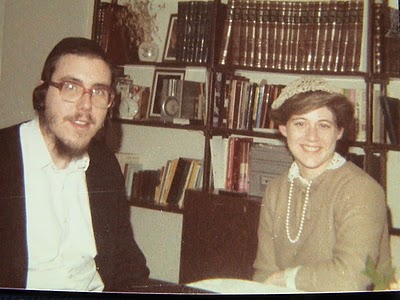 ABOVE: Jacob Stein with his first wife Sara in Bnai Brak 1985.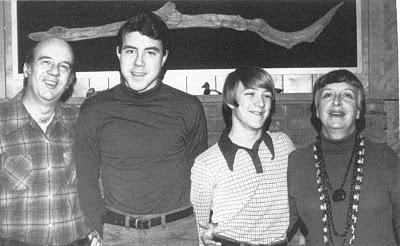 ABOVE: Jacob Stein and his brother with their adoptive parents in 1975.
At age 14, Jacob Stein read The Source by James Michener. This triggered his interest in Judaism and he began reading every book he could find on the topic.
"I would take these long walks in the park and think about all these questions about religion and spirituality… I thought the lack of violence and substance abuse in the Orthodox communities impressed me that the Torah represented divine wisdom."
"I started living like a marrano, studying and practicing Judaism to some extent [in a home that hated Jews] but nobody else could know about it."
Jacob visited his first Orthodox shul (in New Square) at Simchat Torah 1976 where he became friends with Avraham Stock, a convert to Judaism.
When Jacob's adoptive parents kicked him out of the house for pursuing his Jewish interests, he moved in with his new friend in Monsey.
Two weeks before Pesach, 1977, Jacob and half a dozen rabbis from Monsey visited Rabbi Moshe Feinstein in the lower East Side to find out about his conversion.
"If I had been there, I probably would've decided no, don't convert this person. He's so young. What if he's not happy?
"Reb Moshe did not know why we were going to see him but all the other rabbis did know and they were prepared with all sorts of arguments against my conversion. They were all sure they should not convert me at that time."
"As these other rabbis came out with their various arguments, Reb Moshe was able to bring out other sources and to contradict everything that they said. I didn't understand a word they were saying. They were all sitting in a corner having this very excited discussion in Yiddish and pulling books out of all the book shelves and piling them. I didn't have the faintest idea how the discussion was going.
"At the conclusion of the meeting, Reb Moshe poskens (rules) that I should be converted immediately. That they should assemble a beit din (Jewish law court) and do it tomorrow. And this is what happens."
"My adoptive parents realize I'm not coming home. They thought I'd have nowhere to go and I'd come home crying for mercy. I refused to come home. I made up some story that I was going to New York and that I would break off contact with them for a time. I couldn't go home. I couldn't eat with them. I had to keep kosher.
"I went to a yeshiva in Far Rockaway for a few months and then moved to Israel just before turning 17 [to stay away from the police who were looking for him on behalf of his adoptive parents]."
"I was in Israel for more nine years. I spent all of that time in yeshiva. I got married there to a geres (convert) from America (a student at Aish). I lived about a year in Jerusalem and five years in Bnai Brak. That was the golden era of my youth. I just loved it there. The only problem was that eventually my wife and I started running out of money. Friends helped us financially… We ran out of friends who were able to help us. We packed up and moved to America in July 1986. We lived in Borough Park for threeyears. I studied computer programming. That was the hot profession in the 1980s. My wife went to FIT (Fashion Institute of Technology) and she learned pattern-making for women's clothing, a good paying profession. We both got jobs and made some money."
"We moved to Monsey. We had a car. We were not able to have children. I had a low sperm count and at that time there was no treatment for that problem."
"My first wife and I were married for ten years."
"In 1991, after being back in America for five years, my wife came to me one day and told me she wanted a divorce. She was not happy being religious. It was very upsetting for me."
"The last couple of years, I looked her up on the internet and we spoke on the phone. She had three children — two girls and a boy — the same as I have. She remarried but divorced about a year before. She's Wiccan."
"I was single for three years and then I married a baal teshuva from Russia."
"I lost my job programming last October [after this dispute, see the comments]. I've been accepted into a nursing school beginning in September… I'm not that different than anyone else walking around Monsey."
Luke: "How has your religious community reacted to your blog?"
Jacob: "Some think it is great. About 80% are indifferent."
"I have a business card that I give out to people with my blog address. I tell people that I am always interested in comments and how I can improve it."
"No one's been against it as far as I know."
Luke: "Tell me this story about your back and forth with this other blogger?"
Jacob: "When I started blogging [in 2006], I noticed that there seemed to be ten or twenty [prominent] blogs out there that were anti-Orthodox Judaism like Hasidic Rebel. I decided to do the opposite.
"I put posts on my blog and I started going to all these other blogs that were anti-Orthodox and leaving comments on their blogs. I had two intentions — one was to protest what they were saying, and two to bring attention to my blog."
"I write a lot of critical posts about gay people, atheists, Muslims. My blog has my name on it and my address. It wouldn't surprise me if someone tries to hurt me. Frankly, I am completely willing to take that risk to stand up for what I believe in. As far as I know, there's no fatwa against me."
Luke: "How did this dispute get so nasty that you lost your job?"
Jacob: "I made some posts on her blog. Part of her response was to contact her father and her father somehow discovered the email address of the CEO of my employer…
"He sent the CEO an email saying that I was harassing his daughter. The next day, I was called to Human Resources and I was fired. The official excuse was that I was using the company's internet email system for unprofessional purpose."
"My income during the past nine months has been very much smaller. I've been using my savings to try to pay our expenses. How will we pay all our bills until I'm able to find employment again? That's questionable. We may have to foreclose on our home."
"There are no computer programming jobs right now in the New York area that I know of."
Luke: "Do you think there's anything you did wrong in your dispute with this blogger that precipitated a devastating job loss?"
Jacob: "No. If it was destined that I lose my job, I'm happy that it came about as a result of my attempting to teach Torah and to help people. There's a story about Rabbi Akiva going to prison for teaching Torah. And when he was in prison, he met a Jew who was there for another reason. And this man told him, 'Both you and I are in prison. I got thrown in for some financial dealings. You were thrown in prison for teaching Torah in public.'"
"I think it is entirely possible that in the future I might physically attacked. I might be assassinated. Frankly, I don't care. I believe in certain things and I'm willing to sacrifice my life for it."
Luke: "When you call this blogger 'another fat whore', is that teaching Torah?"
Jacob says yes. "That post links to an interview she gave you. She makes statements about Orthodox Judaism I find extremely offensive."
"I wouldn't take it back. I wasn't drunk. I write these things with a definite calculation and I would not by any means want to take them back, delete them, erase them. I think they're completely accurate."
Luke: "Has there been anything said online that hurts your feelings?"
Jacob says no. "I'm pretty thick-skinned."
Luke: "Do you think that you are normal?"
Jacob: "It's hard to say. I'm heterosexual."
Luke: "I'm reading some of the vicious things written against you and thinking that a normal person would be devastated by this and you don't seem devastated in the least."
Jacob: "It's anonymous people. Who knows what they are. It's very possible that many of these anonymous bloggers are the biggest losers in the world."
"I've never been acquainted with an Orthodox Jew who doesn't like me. Maybe one exception. Even my ex-wife likes me."
"Among other people, I've had mixed results. Among women, quite a few have thought I was cute and have been nice to me."
"My adoptive parents are still not fans of mine."